Turbo.2013.720p.BluRay.x264-SPARKS
October 26th, 2013
6:59
Movies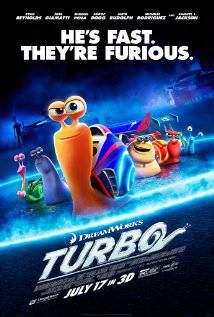 Release: Turbo.2013.720p.BluRay.x264-SPARKS
Size: 3.32 GB
Title: Turbo (2013)
Genre: Animation / Adventure / Comedy / Family / Sport
Director: David Soren
Cast: Ryan Reynolds / Paul Giamatti / Michael Pea / Samuel L. Jackson / Luis Guzmn / Bill Hader / Snoop Dogg / Maya Rudolph / Ben Schwartz / Richard Jenkins / Ken Jeong / Michelle Rodriguez / Mario Andretti / Mike Bell / Aidan Andrews
Rating: 6.3/10 (9,157 votes)
IMDb: http://www.imdb.com/title/tt1860353/
Synopsis: From the makers of MADAGASCAR and KUNG FU PANDA, TURBO is a high-velocity 3D comedy about a snail who dares to dream big – and fast. After a freak accident infuses him with the power of super-speed, Turbo kicks into overdrive and embarks on an extraordinary journey to achieve the seemingly impossible: competing in the world's fastest race, the Indianapolis 500. With the help of his tricked-out streetwise snail crew, this ultimate underdog puts his heart and shell on the line to prove that no dream is too big, and no dreamer too small.
Show/Hide NFO | Download NFO | Show/Hide Screenshots
File info:
File: Turbo.2013.720p.BluRay.x264-SPARKS.mkv
Size: 3515868120 bytes (3.27 GiB), duration: 01:35:40, avg.bitrate: 4900 kb/s
Audio: dts, 48000 Hz, 5:1 (eng)
Video: h264, yuv420p, 1280×544, 23.98 fps(r) (eng)

Download
Support the people that brought this movie to you
If you like this movie or any of the people involved in it please consider supporting them and also the studios so you can keep enjoying more of them in the future. Buy it online!